Read Time:
1 Minute, 26 Second
Good performances from both teams as Manchester United's 1-1 draw against Chelsea on Thursday night, fans believe Reece James asked Cristiano Ronaldo for his shirt.
Ronaldo scored his 17th Premier League goal of the season two minutes later, canceling out Marcos Alonso's opener and preventing United from losing for the third time in a row.
Meanwhile, James was named Man of the Match at Old Trafford for his outstanding performance as a right wing-back.
He had the most touches, crosses, and tackles in the game, and he came close to completing an impressive performance late on with a left-footed effort that smacked the post.
However, James' actions in the 76th minute were also noticed by fans. While speaking with Ronaldo, the England defender was spotted with his fingers interlaced around his lips.
After that, the five-time Ballon d'Or winner appeared to assure James that he agreed and that there was no problem. And practically everyone agreed that Ronaldo's shirt was at the center of the argument.
Despite being a Chelsea supporter, the 22-year-old idolized Ronaldo and said in a Twitter Q&A that he'd want to play with him.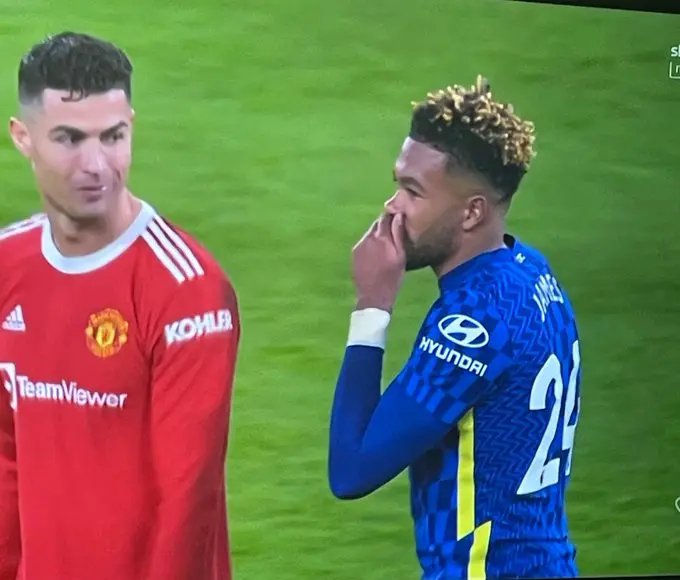 Fans confirm their conversation by saying this: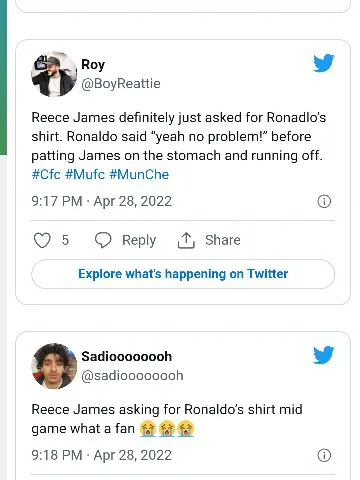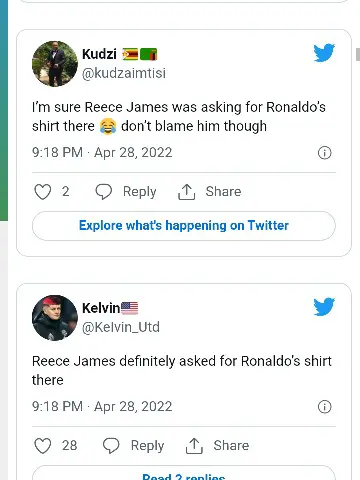 Following a sensational performance at the Santiago Bernabeu earlier this month, Real Madrid talisman Karim Benzema asked for James' shirt as a wonderful tribute.
Thomas Tuchel give reasons why Reece James is absent in today's match against West Ham
After a fantastic winger-vs-full-back clash, Vinicius Jr. applauded James as well. James is rapidly developing into a world-class player, and his most recent spectacular performance prompted former United captain Roy Keane to praise him and claim he could perform in any position.