Read Time:
1 Minute, 43 Second
Manchester City boss Pep Guardiola has had the opportunity to issues a statement that sounds like warning to other Premier League clubs who are yet to meet Newcastle United this season.
Pep Guardiola's statements came after his side was forced to collect only a single point from St James Park following their 3-3 draw with Newcastle United on the Sunday evening.
Ilkey Gundogan broke the dreadlock 5 minutes after the first kick of the ball to give Manchester City an early lead away from home before the host responded in the 28th minute via Niguel Almiron. Wilson's goal before the half time break was enough to give Eddie Howe's side a lead in the first half.
The Saudi backed club seemed to have placed the game to bed in the 54th minute of the game following Kieran Tripper's foul that was well placed behind City's shot-stopper, but were involved in another battle as the Citizens threatened for a comeback.
Manchester City's summer acquisition Earling Haaland found his third goal for his new club in the Premier League before wantaway Benardo Silva settled the arrears minutes before the final whistle.
And after this thrilling cameo that made Arsenal to climb above them in the premier league standings, Manchester City singled out Allan Saint-Maximin and Niguel Almiron for praises, branding them "hard to control".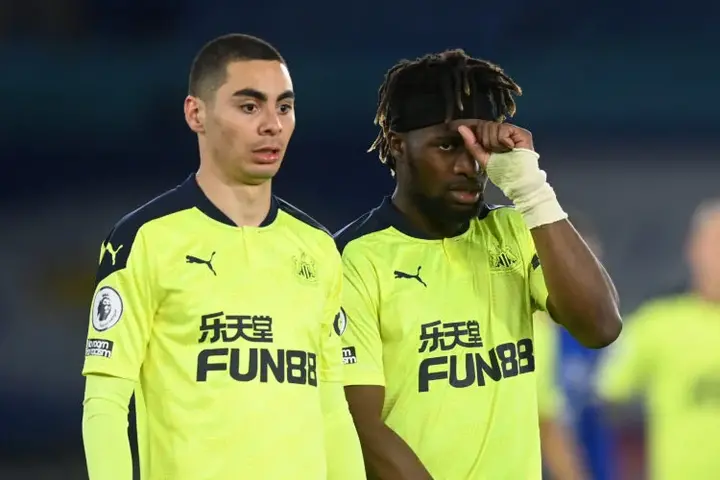 "The only problem is that when we break the lines and we can run, if you finish the action it's not a problem, but if you don't finish, you don't control Saint-Maximin and [Miguel] Almiron," the City boss told the Athletic.
NEW 3-MCI 3: Pep Guardiola reveals player that caused Man City problem in a draw with Newcastle United
It is very true to confirm that Maximin and Niguel were problems to the entire City defense line. Maximin provided the assists that gave birth to the two first and even won the foul that resulted to the third goal while Almiron's runs and his goal were enough to silence Manchester City.
Source: tbrfootball.com