Read Time:
1 Minute, 43 Second
The Premier League fixture points table The race for the top four in the English premier league keeps getting hotter as the week goes by, with well up to five teams in contention of joining Manchester City and Liverpool.
The two clubs are currently seated in 1st and 2nd position, on 74 and 73 points respectively with also a huge goal difference, which makes it almost next to impossible for them to drop out of the top four.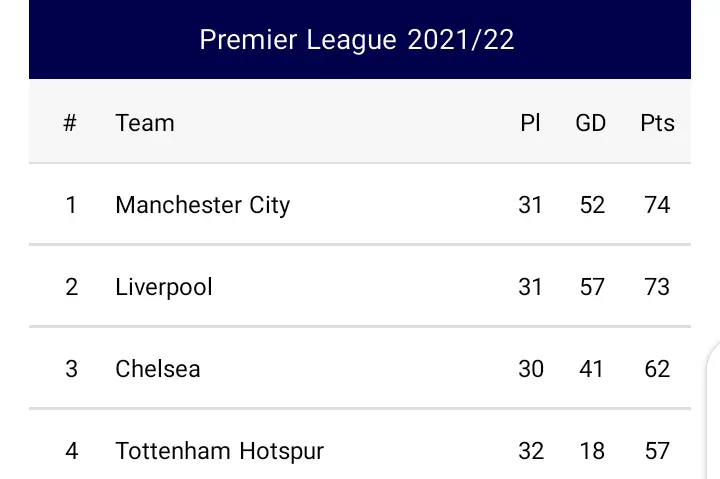 However that can not be said of third placed Chelsea, who are also in a very strong position to qualify but will need to win almost half of their remaining games to be safe.
The Blues are currently five points above fourth placed Spurs and eight points ahead of both fifth placed Manchester United as well as sixth placed Arsenal.
"I feel sorry for them"- Guardiola speaks on Chelsea's ban by UK government
Chelsea have also played two games lesser than United and Spurs as well as playing one game more than Mikel Arteta's Arsenal side.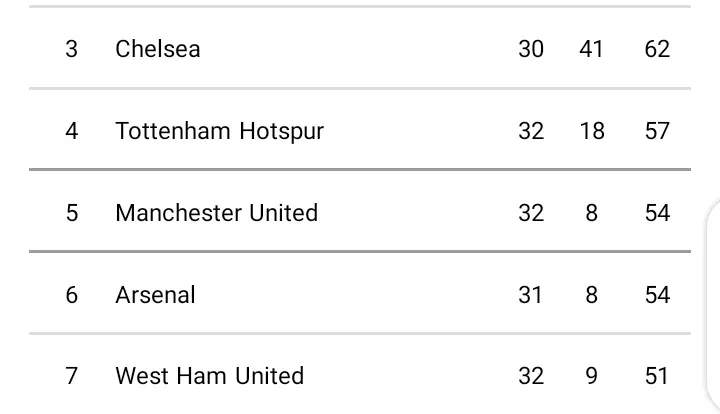 In addition, Tuchel's team also have a huge goal difference advantage in their favor compared to the three teams breathing down their neck.
Should Chelsea eventually win their two games in hand, it will open the gap between them and the teams in fourth and fifth to 11 and 14 points respectively which could be crucial in securing a top four spot.
Going by such permutations, all that is required of Tuchel's team is to win four of their last eight games and they will be home and dry, as that will put them on 74 points, that is 20 points above fifth placed Man United.
Also Chelsea will face Arsenal in their last eight games, and the teams in fourth, fifth and sixth at present will also face each other, which will give room for them drop points in the top four race. Chelsea's top four qualification is in their hands, as they just need at most 12 points to make it to the Champions League next season.