Read Time:
1 Minute, 7 Second
As majority of the world football lovers are eagerly waiting for Saturday big fixture between Manchester united and Chelsea football club, Manchester united head coach Mr Erick Ten Haag has revealed that Cristiano Ronaldo will not be included in the squad that will face Chelsea in the weekend. The Portuguese striker has been struggling to come to the right form since the beginning of 2022/2023 EPL season.
According Erick Ten Haag, He will give priorities to Marcus Rashford, Antony martial and Jordan Sancho as his forward strikers hence leaving the renown footballer in the bench. Despite the fact that Ronaldo is known to be the best footballer in the world alongside Lionel Messi from Argentina, he has not demonstrated his past capabilities since he joined Old Trafford. Many have attributed his weakness to his age since he is now above 35 years.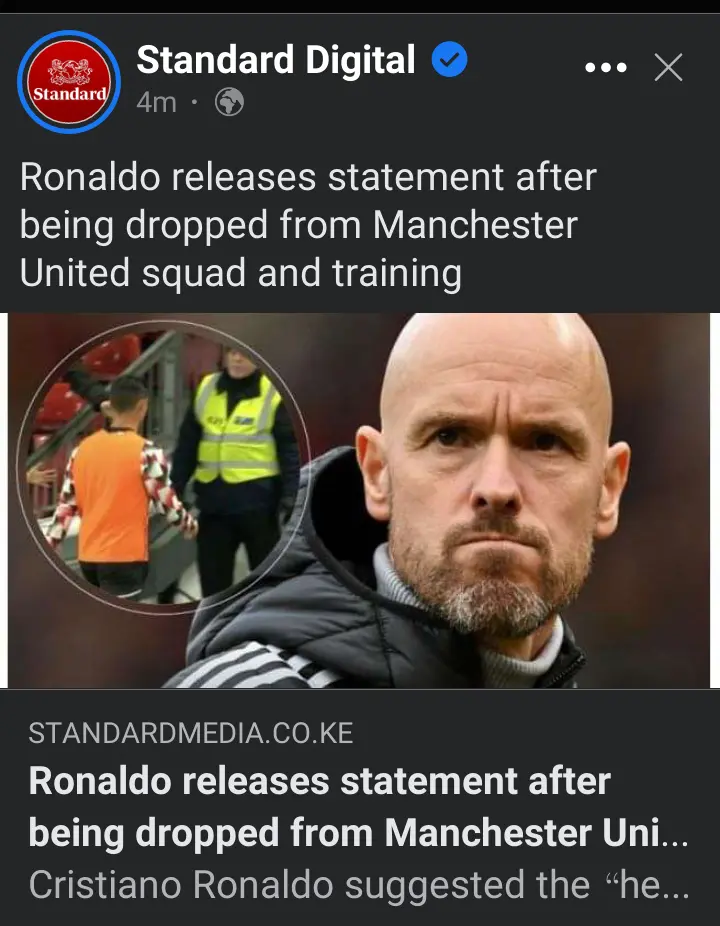 Through the standard digital verified facebook page, Cristiano Ronaldo has issued a statement reacting to the decision by the Manchester united head coach to drop him out of the weekend big fixture.
BREAKING: Cristiano Ronaldo won't participate in a Chelsea match due to Manchester United ban
In his statement, he has maintained that he has been struggling hard to set example for himself and other youngsters in the club but unfortunately something's are not possible sometimes due to heat of the moments.