Read Time:
1 Minute, 12 Second
Cristiano Ronaldo, a former Manchester United star, has been in the news recently, with several top clubs vying for his signature despite his advanced age. The 37-year-old was heavily linked with a move to Chelsea on several occasions before parting ways with The Ref Devils.
As the five-time Ballon d'Or winner set his sights on World Cup glory with Portugal, speculation about a move to Stamford Bridge died down. However, after Ronaldo's team was eliminated from the tournament in the quarter-finals by Morocco, speculation about his future has reignited.
The Portuguese star is said to have received offers from the Middle East and Australia, but he wants to play for a Champions League club. Ronaldo was reportedly earning around £500,000 per week.
According to reports" Sky Sports News Tweet," Cristiano Ronaldo could make an immediate return to the Premier League, with Chelsea set to make a transfer U-turn.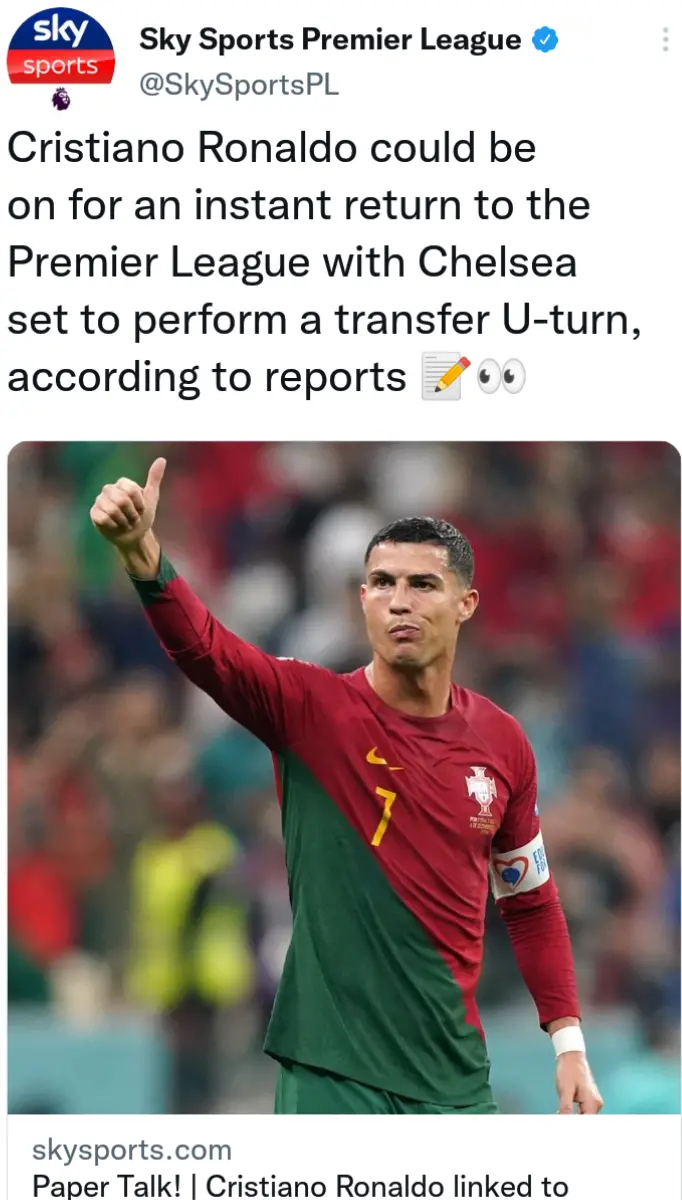 Sky Sports Premier League has raised eyebrows after reporting that the Portuguese star could be on his way to Stamford Bridge, with the Blues set to make a transfer U-turn after previously denying that they would be interested in signing him.
World Cup: "Thank you for making my day," Pele said emphatically to Cristiano Ronaldo
Cristiano Ronaldo appears to be interested in Top Clubs that are still competing in the UEFA Champions League competition, despite the fact that Middle Eastern clubs are offering him huge contracts.